1930s "Big Car" Miniature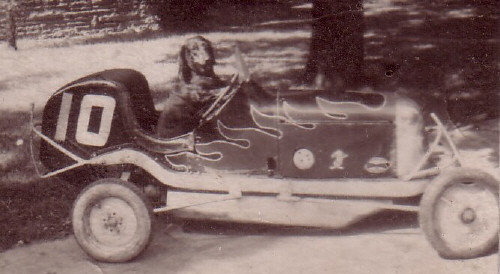 You've seen the picture of "dogs playing poker"
Look what I've got.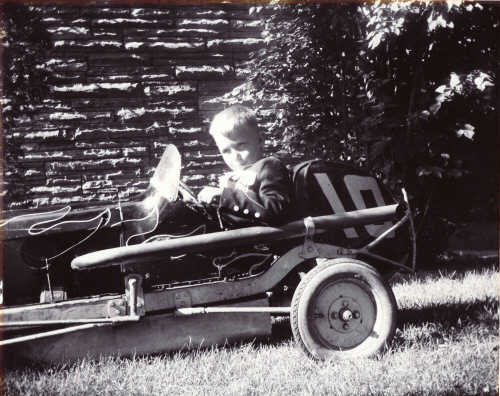 Here I am at age 4 or 5.
Miniature of a 1930's style Big Car
Santa Claus brought this for me in 1947 when I was 3 years old. Later I found out that my father had purchased it from a gun shop owner in Chicago on Halsted Street about a mile north of Maxwell Street.
The car was obviously built by someone who knew about racecar construction as you can see from the following pictures.
The car was push started with no clutch, it had a foot throttle to regulate speed, and a switch to kill the engine to stop. Before driving it my father would tape my pants around my ankle to keep my pants from catching on the revolving drive shaft--safety first. Then he would remind me to push on the pedal to go fast and pull on the switch to stop--safety first. Occasionally he would remind me to watch for cars--safety first. Then after a short push with the choke closed and the ignition off, we would turn the ignition on, he would push the car as hard as he could for about fifteen feet and she would fire up every time. At first the engine struggled and protested as black smoke came from the exhaust. Then it would suddenly clear and off I went to the races. The car was capable of 25 to 30 mph but it seemed like 100 or 200. I kept repeating to myself--push the pedal down to go fast--pull on the kill switch to stop--watch for cars--Billy Vukovich watch out--as I would pilot the car from one end of Mason Street to the other. This went on for three or four summers until I outgrew the car. Seems like yesterday.
Now when my grandsons look at the car and ask to drive it, I look at the gas pedal that made it go faster, at the switch you had to pull to make it stop, and at the revolving drive shaft that would spin between their ankles, I tell them "No, it's broke" --safety first.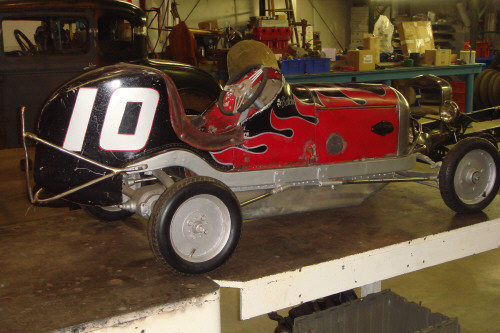 1930s "Big Car" miniature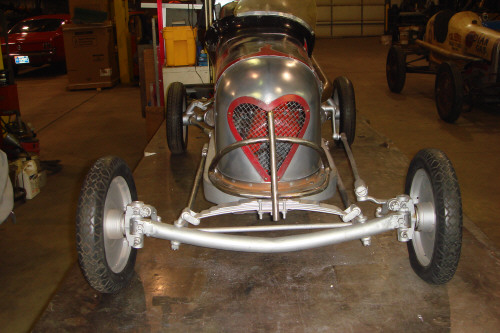 front end detail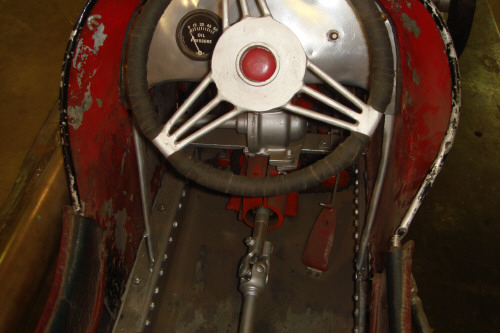 push down on the pedal to go fast, pull out the switch to stop,
& tape your pant legs so they don't catch on the revolving shaft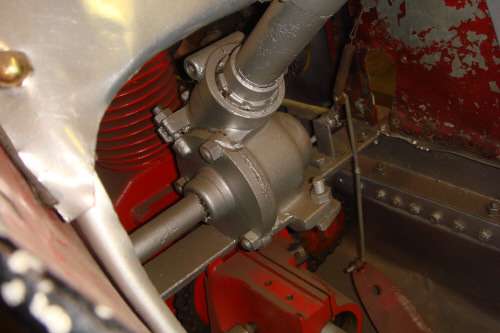 center steering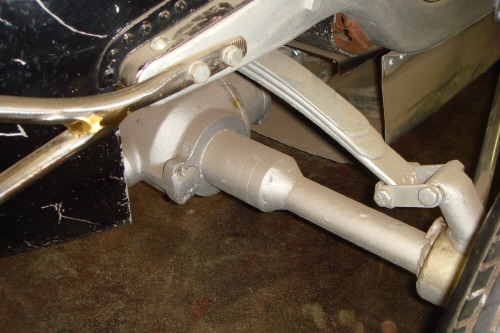 differential & rear spring detail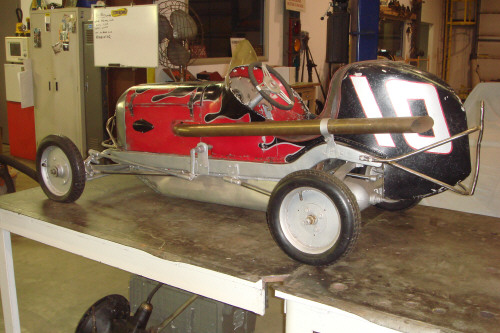 All dressed up & ready to go